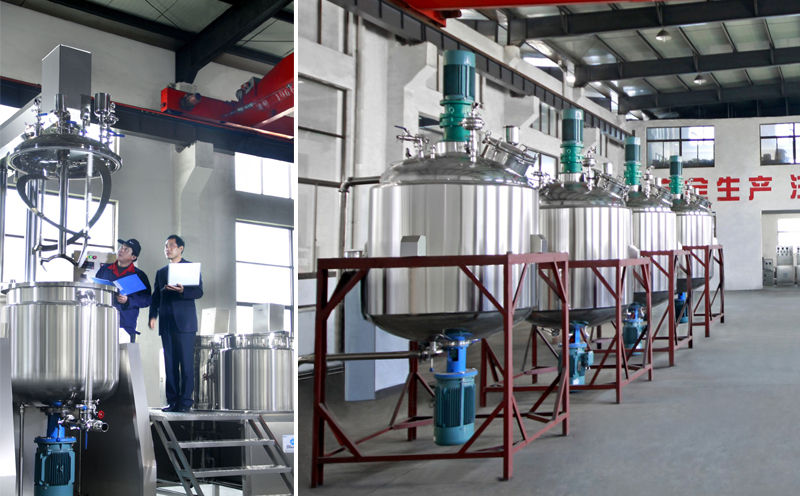 Cosmetics is a kind of knowledge intensive fine chemical products. The production equipment is not as large as general chemical products, diverse and complex. In general, the equipment is used in the manufacture of cosmetics simple tip some small and medium-sized processing equipment, at the same time they have the versatility, the box can be made with the same kind of equipment to a variety of different types of products. But with the development of the era and the progress of science and technology, computers have been used in the cosmetics equipment. Computer control of vacuum emulsification equipment will change the face of the future cosmetics enterprises.
Vacuum emulsifying machine definition
Is mainly refers to the material under vacuum condition, can be uniformly high shear emulsifying machine with a phase or multiple phase distribution to another continuous phase, the use of machinery to bring strong momentum, make the material in the narrow clearance of the stator, hydraulic shear under hundreds of thousands of times per minute. Centrifugal extrusion impacts tear combination, such as instant evenly dispersed emulsion, after high frequency cycles, end up with no bubble is exquisite and stable high quality products.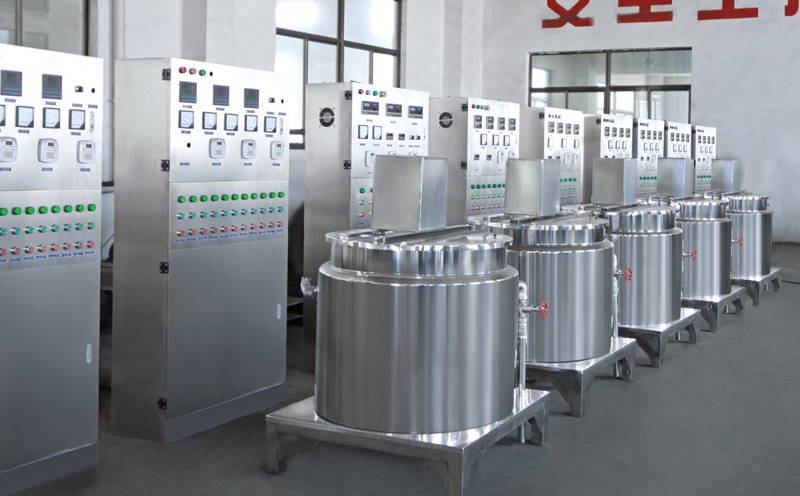 Main system
Vacuum emulsifying machine is mainly composed of water pot, emulsifying stirring the pot, and oil phase (optional), vacuum system, lift system, electrical control system (PLC) optional, operating platform, etc.
The use and application field
The product is mainly used cosmetic care products, biological medicine, food industry, coating, printing ink, nano materials, petrochemical industry, printing and dyeing auxiliaries, papermaking, pesticides fertilizer, plastic, rubber, power electronics, and other fine chemical industry, etc., especially for matrix viscosity, solid material content higher material emulsion configuration more obvious effect.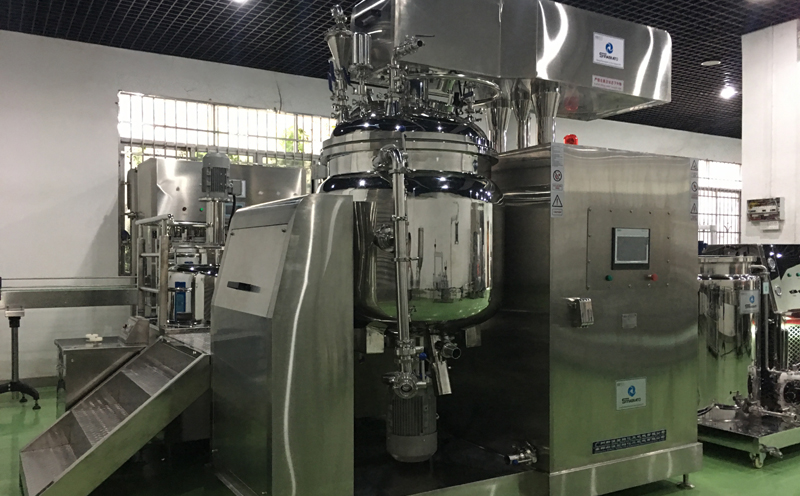 Performance and characteristics
♦ this company produces the vacuum emulsifying type varieties diverse, including homogeneous system points on homogeneous under homogeneous, both inside and outside circulation homogeneous, mixing system and two-way one-way stirring, ribbon stirring; The lifting system is divided into single cylinder and double cylinder lifting, and can be customized according to customer request a variety of meets the demand of high quality products.
♦ triple mixing adopt imported frequency converter speed control, can meet different process requirements;
♦ homogeneous structure of German technology, using imported double mechanical seal effect, emulsifying speed can reach 4200 r/min, highest the highest shear fineness can reach 0.2 5 um;
♦ vacuum deaeration to achieve aseptic requirements, and USES the vacuum materials, especially for powder material using vacuum suction to avoid dust float in the sky;
♦ main pot pot can choose lifting device, convenient cleaning, cleaning effect is more significant, the pot body can choose dumping of discharge;
♦ pot body adopted three layers of imports of stainless steel plate welding, tanks and pipelines for mirror polishing, full compliance with GMP requirements;
♦ according to the technological requirements, heating and cooling material of tank, steam and electric heating two heating methods mainly include;
♦ in order to ensure the whole machine control is more stable, using imported electrical appliances, can fully meet international standards;