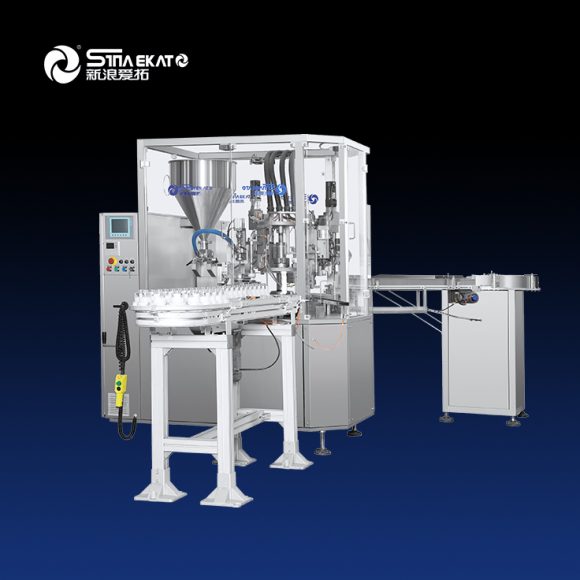 【Equipment Name】   
SJ-600 Automatic Cream&Paste Filling and Capping Machine
【Equipment Description】
This machine is suitable for filling all kinds of creams, widely used in cosmetics, daily chemicals, medicine, food and other industries; Filling and capping integration, PLC touch control system, accurate and efficient filling, no leakage, no spilling, no bottle no filling.
【Performance Characteristics】
1, This machine adopts Mitsubishi PLC system control system, which combines electrical, pneumatic part into one unit, have the advantage like: small volume, low noise, convenient transformation…etc.  All contacted parts meet FDA standards
2, Speed: up to 60 bottles/min (filling and capping all in one unit). This data is depending on the viscosity of the filling product, bottle diameter, height, filling amount and other optional devices. It just for reference.
3, The machine adopts centrifugal filling way to effectively ensure that the material will fit to the bottle wall, to solve the problem of product oxidation caused by false filling.
4, The machine adopts mechanical hand to screw the cap, can be use for any kind of screw cap. Besides, the torque also can be adjusted, and the screw part is made of soft silica gel material, protect the bottle cap effectively in the process of work.
[Technical parameters]
SJ600: 60 bottles/minute (filling and capping in one unit)
Suitable size:
Minimum bottle: Diameter 10mm Height 50mm
Maximum bottle: Diameter 80mm Height 200mm
The filling volume : 1-400 ml
Filling precision: ≤ ±1%
Form a complete set of motor: 220V/50HZ 1.1KW
(Need more content of filling machine, please contact our customer service !)