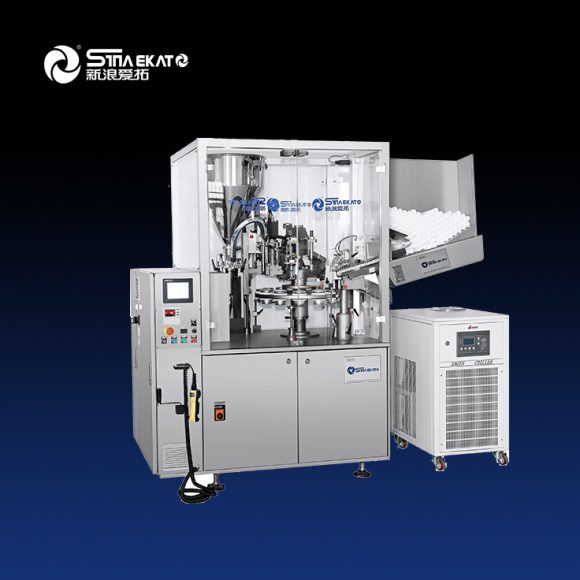 【Equipment Name】  
ST-60 Automatic Tube Filling and Sealing Machine
【Equipment Description】  
This machine is suitable for all kinds of plastic tube, aluminum plastic composite tube. It can discern the tube automatically by the color sensor, and then filling, sealing, printing the date of production and cutting the end part of the tube, widely used in daily chemical, medicine, food and other industries. It adopts touch screen and PLC control system, it can feed the tube and positioning it automatically. Besides, its hot air heating system adopts  the imported fast and efficient heater and high stable flowmeter , has a advantage of  sealing tightly and fleetly, will not damage the surface of the sealing part, and the sealing part appearance is beautiful, neat. The machine can be equipped with different specifications of filling head, to meet the filling requirements of different viscosity, and it also equipped with plexiglass dust cover.
【Performance Characteristics】
Thisequipment adoptsEuropean KALIX technology, easy to operate and maintain, it is a cost-effective equipment and very suitable for domestic customers.
2, It adopts a new mechanical design, effectively ensure the stability of the machine, suitable for all materials from water to silica gel. Servo filling way can be option if you need.
The nozzleof itadopts cut off type filling way to ensure it has no wire drawing situation  and no pollution .(Can be adjusted if filling the special paste)
4, This equipment adopts partition type heating way, environment friendly, because of this heating mechanism, it can save more than 20% energy comparing with the ordinary equipment.
5, This equipment is easy to change the other products and then fill, ordinary operators can complete this process within 10 minutes.
【Technical parameters】
Production speed: 3000 PCS /Hours
Cylinder capacity: 30L
Filling range: 3-200g/piece
Filling precision: ≤ ±1%
Tubediameter: φ 10-50mm
Form a complete set of motor:220V/50HZ 1.1KW
Machine size: 1800x750x1770mm
Machine weight: 620KG
(Need more content of filling machine, please contact our customer service !)